Puppies - pet training pads

Smart. Clean. Happy.
PRODUCTS
PUPPIES PET TRAINING PADS
Size S 45/30 sm
PUPPIES PET TRAINING PADS
Size M 60/40 sm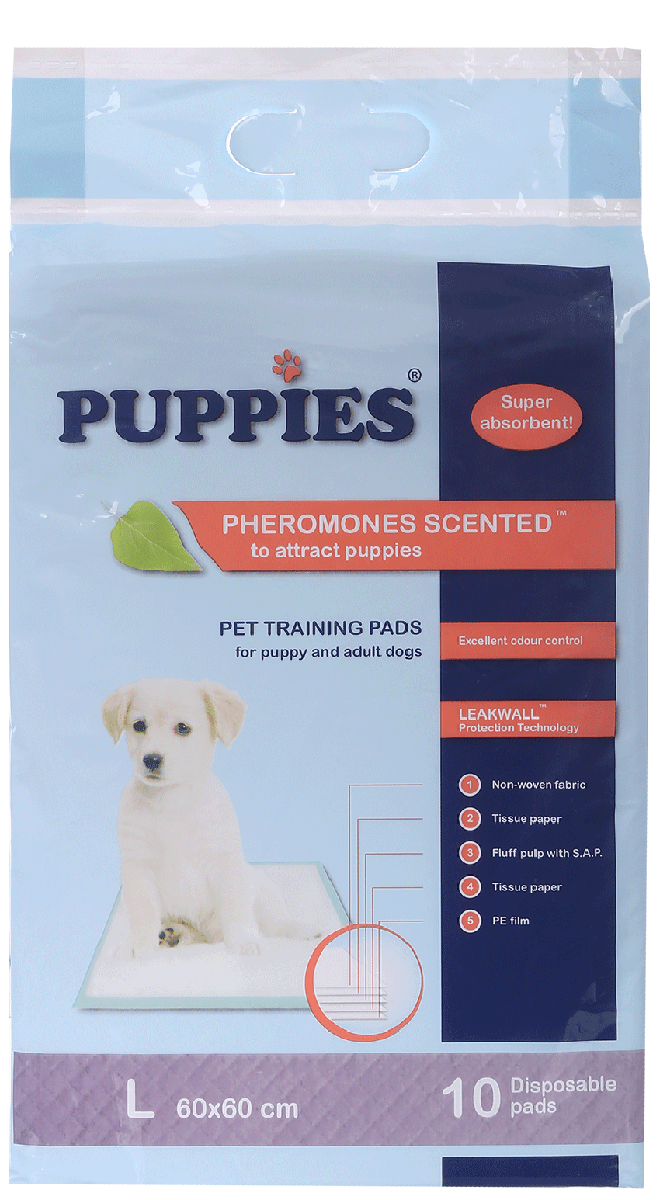 PUPPIES PET TRAINING PADS
Size L 60/60 sm
PUPPIES PET TRAINING PADS
Size XL 90/60 sm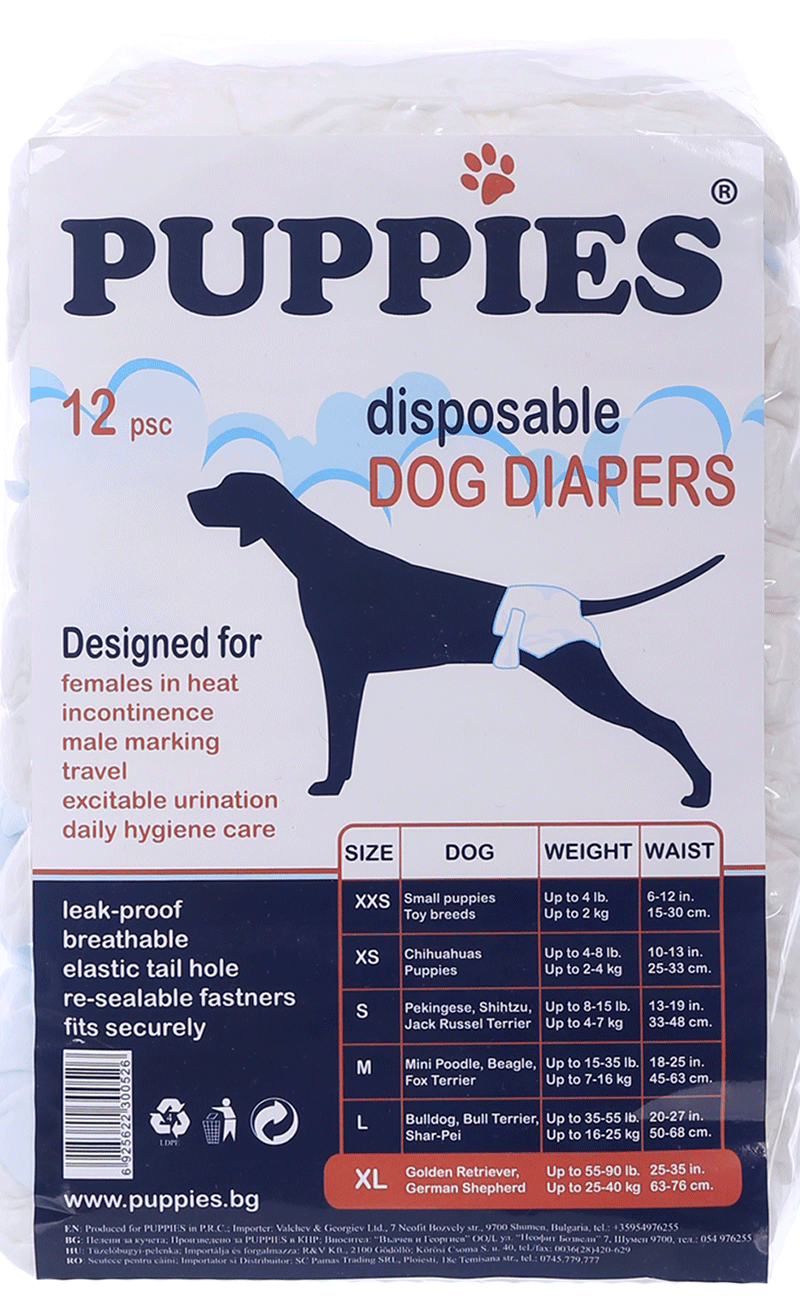 DISPOSABLE DOG DIAPERS
XXS: Small puppies – Toy breeds, up to 4lb/2kg, 6-12in/15-30sm.

XS: Chihuahuas and Puppies, 4-8lb/2-4kg, 10-13in/25-33sm.

S: Pekingese, Shihtzu, Jack Russel Terrier, 8-15lb/4-7kg, 13-19in/33-48sm.

M: Mini Poodle, Beagle, Fox Terrier, 15-35lb/7-16kg, 18-25in/45-63sm.

L: Bulldog, Bull Terrier, Shar-Pei, 35-55lb/16-25kg, 20-27in/50-68sm.

XL: Golden Retriever, German Shepard, 55-90lb/25-40kg, 25-35in/63-76sm.
NEW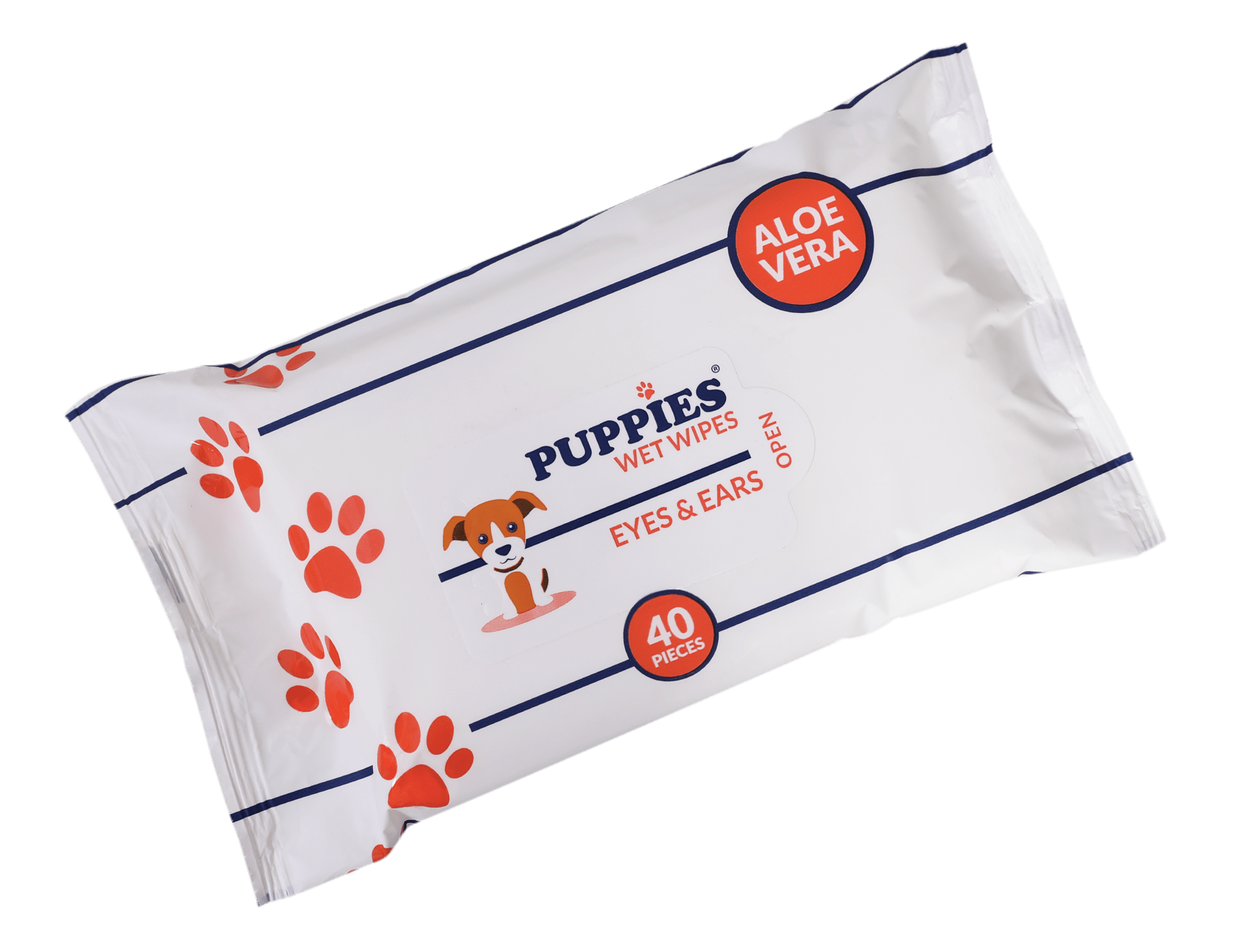 WET WIPES EYES & EARS
—
Aloe Vera
WET WIPES BODY & PAWS
—
Aloe Vera & Jojoba
EASY TRICK FOR DOMESTIC HYGIENE
PUPPIES PET TRAINING PADS
Pheromone-scented to attract the puppy: size S, M, L
Leakwall™ 5-layered flow protection
SAP, gel formation, fast absorption
Neutralizing the unpleasant odor
Patches for gripping on the floor
IN COMBINATION WITH …
PUPPIES DISPOSABLE DOG DIAPERS
Self-adhesive tapes for easy fixation
Fast absorption and gel formation
Breathable fabric
Why pet training pads with pheromones?
WE ASKED THE VETERINARIAN...
"Dogs use their noses to locate the place to relieve. Pheromones are organic aromatic molecules secreted by dogs to mark their territory. They trigger responses in other dogs that smell them. The synthetic pheromones used in dog pee pads are crafted for the purpose of attracting the dog to pee over it in a similar fashion as when they sniff a place that has pheromones left by another dog. This way the dog develops hygiene habits easier and faster, and the use of additional sprays or drops to attract it to the right potty place is unnecessary.
The advantage of pee training pads is their high absorption capacity and the neutralization of unpleasant smell. And fixing them to the floor with patches prevents from folding and moving of the pad, as well as the possibility for the puppy to play with it and tear it.
Dogs need training to build habits, and this may require time and patience. With training pee pads the learning process becomes faster, keeping the home clean and odourless.
Cases in which to use hygienic dog pads:
For puppies who are in the process of being potty trained
For tiny dogs that get chilled quickly when temperatures drop
For sick, convalescent dogs who are weak or have mobility problems
Dogs in period of menstruation, as well as dogs suffering from incontinence
For fearful dogs who are too afraid, restless and uncomfortable to potty outdoors
When you have to leave your puppy inside for longer than they can hold it
When you do not have access to a backyard, open space or park nearby
When you have a health problem and cannot go easily outside "
BECOME A DISTRIBUTOR FOR YOUR COUNTRY
PUPPIES products can be found in pet shops, veterinary clinics and cabinet.
In case you cannot find PUPPIES near you, let us know at info@puppies.bg
or call us at +359 886 739 901.